How to Contact Facebook Support & Get Help Quickly
Know the best 5 possible ways to contact Facebook Support at any problem or issues with your account.
Hey, are you facing any problems or issues on Facebook? Want to contact Facebook Support? Here is how to do that. I have shared the best and faster ways to contact Facebook support.
Let's know more.
How to contact Facebook support and get help quickly?
To contact Facebook support and get help quickly, contact Facebook through live chat or support email. If you are an advertiser, you can also contact through Advertiser Contact Form from the business dashboard.
Normally Facebook has no public contacts, phone number or email address available. If you are a customer of Facebook, that means an Advertiser, only then you can contact Facebook through different channels.
How to Contact Facebook Support
Here are 5 ways to contact Facebook Support at now.
1. Contact Facebook Business Support Live Chat Directly
Though Facebook has live chat support, it is not for all users. Providing live chat support will be impossible to Facebook.
Currently, only the advertisers can get live chat support. But it may not also be available for all countries and all users.
Depending on the number of available agents, the live chat option is allocated to different accounts gradually.
Please remember, this live chat is only available for Facebook Customers/Advertisers. In most cases, the live chat is found available for the advertisers running Ad Campaigns.
Facebook has live chat support for locked accounts. That means you can contact via live chat even if your account is locked. But you must be an advertiser on Facebook.
Here is the full guide on How to Contact Facebook live chat support 2022
2. Contact Facebook via Advertiser Contact Form
You can contact Facebook support via the contact form for advertisers. Actually this contact form is available for you if you have activated your Facebook Business Account.
You must be the administrator of an active business account in Facebook (Meta). You can access Facebook's special help here.
Normally Advertisers with Business Suite may expect a fast responses as Facebook treats these accounts with more importance.
Here is a screenshot of the Facebook business dashboard.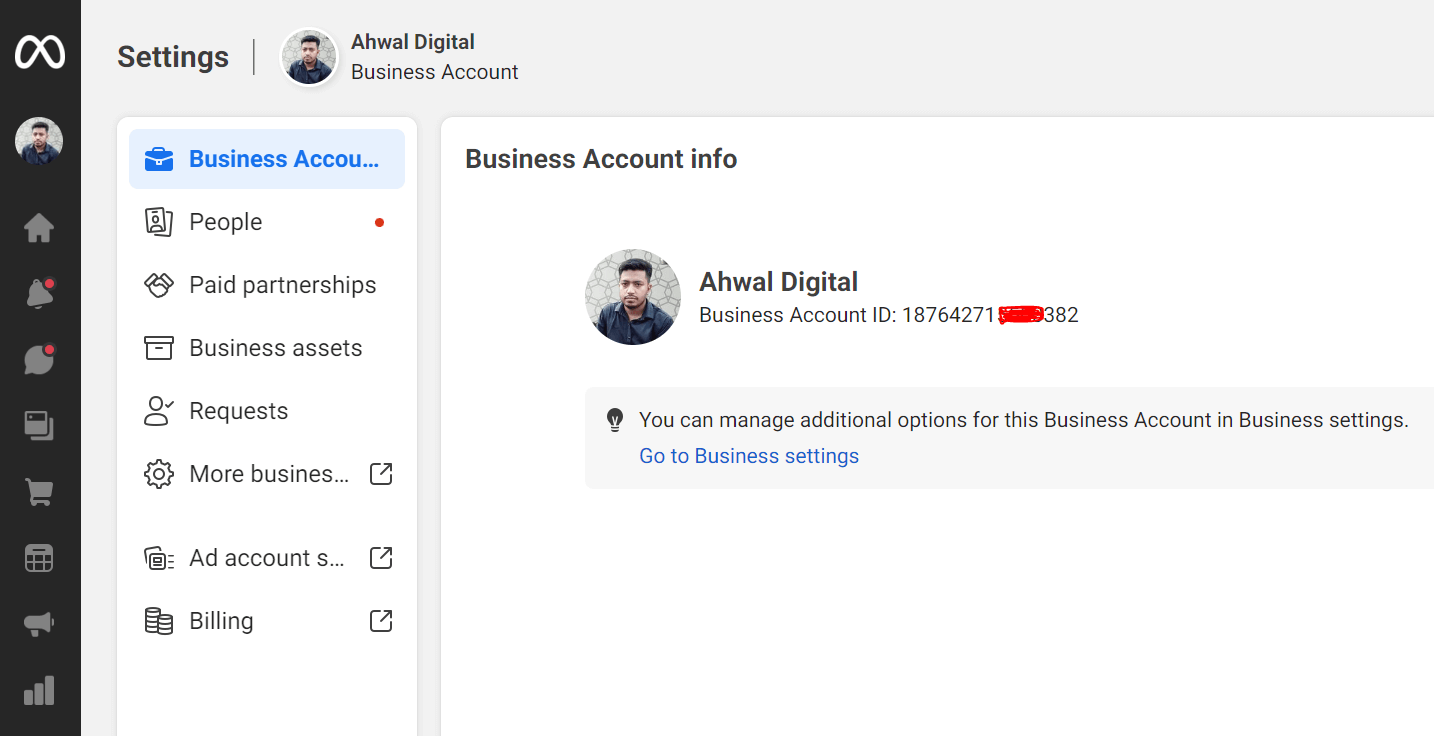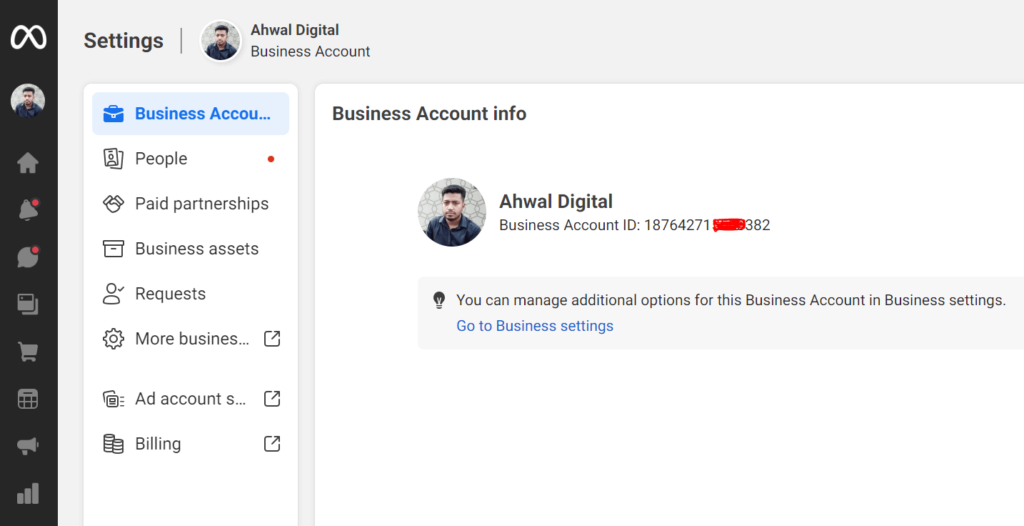 Facebook advertising accounts are completely free to create. You don't have to spend money for that.
You may ad a payment method to create your Ad Account for advertisement. You just need to create an ad account and promote a post for the minimum daily cost. It is very simple to do.
Then you will be able to use adverting contact form.
You have to specify the advertising account associated with your profile. If you have more than one Ad account, select the ad account which you are facing problems with.
When to reach Facebook Support
You can contact Facebook support for any issue regarding your Business accounts, Ad accounts, Advertising Problems, Unpublishing of Content, Ban, or any other difficulties you find.
3. Contact through Facebook Support Email
Additionally, there are a few email addresses to contact Facebook Support. Actually I am not experienced in communicating through these email address.
In most cases, you'll receive an automatic mail from an autoresponder. But you may also get a response from Facebook Support Agent. For that, you need to wait 2-3 or more days.
Here are the mail addresses that likely to work –
4. Contact Facebook support through Report a problem
You don't need to have an advertising account or business account for that. You can ise this option by logging in to your Facebook Account.
Using the "Report a problem" option is helpful for technical problem. By the way, this option can be found in Help and Support option.
To report a problem click on your Profile picture > Help and Support > Report a Problem > Something Went Wrong.
If you are on Facebook App, go to Menu (Profile Photo) from bottom > Help and Support > Report a Problem.
A pop-up will appear like the one below.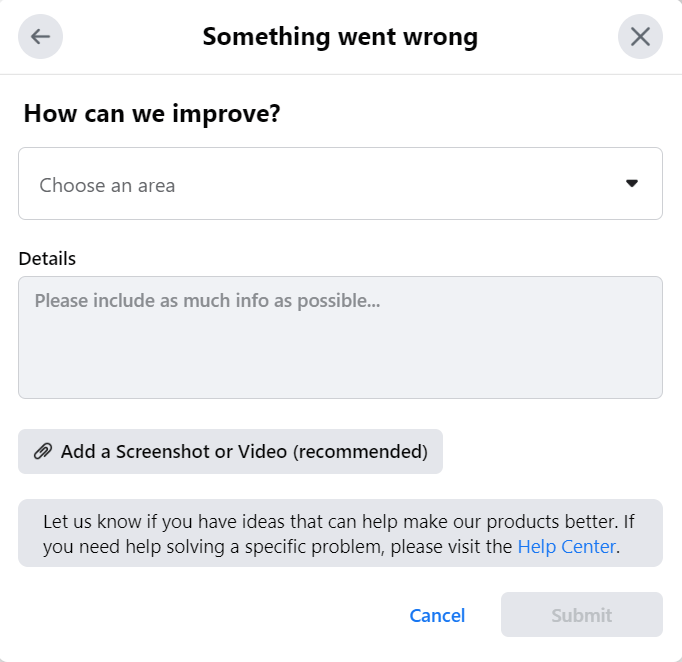 Choose an area where you found the problem. Write about your issue in detail. Add a screenshot showing your problem. Then submit the form.
When you should use 'Report a Problem' option
Facebook allows you to report technical issues such as broken pages, payment problems, and content that is offensive or in violation of its rules using this method.
Be sure of what you are going to report and describe your problem clearly while reporting.
It is a good idea to share a clear screenshot of the problem. Normally it takes few hours to get a response from Facebook Support.
You can view the result of your report/appeal if it was approved or rejected. To view your report status go to Help and Support > Support Inbox clicking your profile photo.
5. Get Your Answers from Facebook Help Center
Facebook has a knowledge-based help center and a large community forum where you can find answers to your questions.
First sign in to your account then visit the link- Facebook Help Center.
You can search for any resources or answers by typing the question in the search box. You can also browse any topic by selecting the topic. Some topics are Account Settings, log in and Password, Privacy, and Security etc.
Bottom Line
I shared all the possible ways to contact Facebook support currently available on Facebook. Though Meta always brings new update on Facebook. So these options may change any time.
In the conclusion I should say, Facebook support is available only for Facebook customers (Advertisers). If you have activated your Facebook Account (Meta Business Suit) and have an ad account, you can easily reach out Facebook Support Agent to get your problem solved.
I hope you'll find the piece of content helpful. Please Follow us on Facebook – NewTechTown.
More Information about Facebook