You Can Now Use Snapchat on Your Computer
The web version of Snapchat is accessible to all users worldwide. You can now use Snapchat on your computer. Let's know the new features.
Snapchat is the rare social media that never made the jump from mobile to desktop version. Instagram has a web app, WhatsApp has a desktop app, but, until now, you needed your phone when you wanted to Snap.
Now, the web version of Snapchat is accessible to all users worldwide. The parent company Snap Inc. recently announced new features of Snapchat by a press release. From now you may access the social network straight from web browser on your computer.
The online version of Snapchat, accessed via www.snapchat.com, was up until this point only accessible in a small number of countries and only to those who have a premium Snapchat+ membership.
Among the first countries served were the United States, Canada, the United Kingdom, and New Zealand. The social network's Web interface, which is now available in all countries, works best with the Google Chrome browser.
Besides using Snapchat on larger screen, you can now chat and start a video call in the same window through Snapchat Web.
All of which are obviously in sync with the mobile app. A good thing for users who, according to a press release issued by Snapchat in July, uses the app's voice and video calling function an average of 100 million times every month.
For everything else, Snap Inc. has announced the release of new widgets. It works with the iOS 16 lock screen for iPhones. For instance, a widget providing access to a particular Snapchat chat may be available right to the lockdown screen.
In order to identify and access the most crucial discussions more quickly. The platform now adds a new system of shortcuts that we can pin to the top of the Chat tab.
Additionally, these shortcuts will show the approaching birthdays of your contacts. And enable you to get reminders if you have not yet responded.
Now, though, you can pick up those conversations on your Mac or PC, whether you're sending a quick photo to a friend, or joining a video call with a group.
How to Use Snapchat Web on Your Computer
To use Snapchat Web on your computer, you'll need to be using the latest version of Chrome or Microsoft Edge. Snapchat doesn't have a Mac or PC app, so it's the web app for you.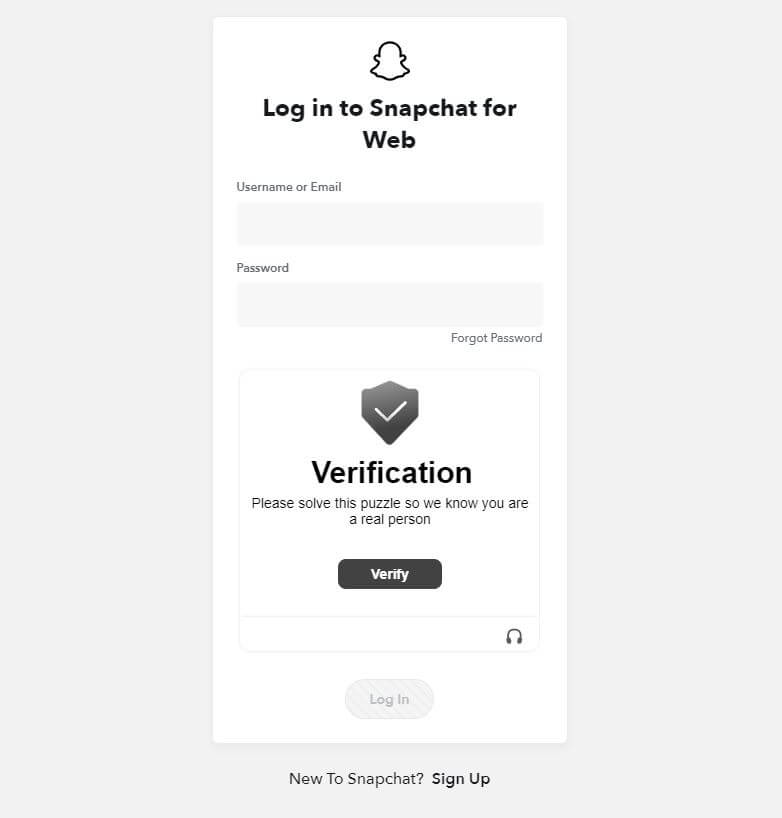 To start using Snapchat web,
Go to web.snapchat.com
Then log in with your username and password. If you have two-factor authentication set up (which you definitely should) you'll need to enter the code.
Next, you'll need to confirm your account in the Snapchat app on your iPhone or Android. You can tap the notification that appears on your mobile device, then tap "Yes" on the prompt.
Once everything goes through, you'll be greeted by a welcome page featuring your Snapchat avatar.
Click "Get Started," then give Snapchat permission to access your computer's webcam and microphone. If the camera doesn't turn on automatically, you can click on the big camera icon in the middle of the screen to enable it.
From here, it's really just Snapchat, in a more limited, distilled form. You can take snaps (with or without lenses), send them to individual friends or to group chats, and start video or audio calls at any time.
However, you cannot view Snap Map, Discover, Spotlight, Stories or Snap Archive and more importantly open snaps on your computer.
You can send them only but when you receive one, you have to use your phone to check it out. This is a bit of bummer.
FAQs
Can I use Snapchat on a computer?
Of course, you can use Snapchat on the computer by visiting web.snapchat.com from Chrome or Edge and then logging in to your Snapchat account.
To Sum Up
Obviously, if you care about those missing features, especially opening snaps, the web app won't feel exactly like the Snapchat you know and love. Maybe in the future Snap will add things like opening snaps and stories to the web app.
Right now, Snapchat web version seems to be designed to help you using larger screen and moving conversation for mobile to desktop and back again.