How to Buy Mobile in Installments in Bangladesh 2023
This post is about how to buy mobile in installments in Bangladesh, what documents and things you need. where to buy, installments and different conditions. I'll try to satisfy all the questions in your mind. Hope, it will help you. At present, smartphones are in everyone's hands. You might want to buy a smartphone with…
This post is about how to buy mobile in installments in Bangladesh, what documents and things you need. where to buy, installments and different conditions. I'll try to satisfy all the questions in your mind. Hope, it will help you.
At present, smartphones are in everyone's hands. You might want to buy a smartphone with a good camera, good display and good processor. But you can't afford it. Here is solution, you can fulfill your dream buying mobile in installments.
People from any profession can buy a phone and pay in installments. Such as: businessmen, shopkeepers, government or private employees, teachers, students, etc.
How to buy Mobile in Installments
If you want to buy mobile in installments, you have to make at least 20% -60% down payment and the rest of the money has to be paid in 3 months, 6 months or 12 months installments.
Here. the down payment here means you have to pay 20% -60% of the price of the phone you want to buy at the time of purchase. The instalment tenure of different sellers may be different.
For example, if the price of the phone you want to buy is 20,000 Taka, then you have to pay four thousand to twelve thousand as the first payment. The remaining should be paid through monthly instalments.
What are Required to Buy Mobile in Installments
Now I know what documents are required to buy a mobile in instalments. Below is a list of some of the required documents.
NID Card or Birth Registration Certificate Copy.
NID or BR Certificate copy of your guarantor.
2 Copy Passport Size Photos of both Buyer and Guarantor.
The guarantor must be earnable or financially solvent and trusted.
To fill the form provided by Seller.
However, you will not need any kind of paperwork or guarantee to buy a mobile phone in instalments through EMI. In that case you have to buy mobile by paying in instalments using digital payment method.
Mobile can be purchased in instalments directly from the shop, through POS or online any Visa, MasterCard, DBBL, debit and credit card and mobile banking services developed, and paid with Rocket. In these cases, no documentation is usually required.
Buy Mobile in Installments Online
If you want to buy mobile in instalments online, you have to visit various popular and reliable e-commerce sites to know the type and conditions of their instalments. In my opinion the best is, Daraz. Also trusted are Grameenphone Online Shop, Robishop and Walton's Walcart.
You can also buy mobile in instalments online from these sites. The price of the smartphone can be paid through Visa, MasterCard, DBBL, debit and credit cards. At the same time, the price of a smartphone can be paid with Mobile Financial Services like bKash, SureCash, and MyCash.
Where to buy Mobile in Installments
Now the question may rise, where to get the mobile in instalments. As the demand for mobile phones increases and competition increases, almost all brands continue to offer mobile sales in instalments to increase sales of their phones. Moreover, mobile sales can be seen in different occasions and instalments.
Where to buy mobile in instalments? Usually, mobile brands post this information on their websites. Most companies sell mobiles online in instalments from their own websites. Let's find out where mobile phones are sold in installments.
1. Daraz
From Daraz you can get mobile in maximum 12 months monthly instalments at 0% interest. You can buy mobile in 3, 6, 9 and 12-month instalments. However, customers of some special banks will get this facility.
Customers of the followings banks will be able to buy mobiles in installments from Daraz
Standard Chartered Bank
Southest Bank
NRB Bank
City Bank
Mutual Trust Bank
Eastern Bank
Jamuna Bank
LankaBangla Finance
BRAC Bank
Brands You Can Buy from Daraz in Installments
Daraz offers Installments for the following Brands.
Samsung
Iphone
Huawei
Realme
Walton
Xiaomi
OPPO
Motorola
Tecno
Infinix
OnePlus
To order mobile in instalments from Daraz, select Installment in the payment method. Then, select the bank and instalment tenure.
Enter your debit or credit card information and pay the first instalment and delivery charges by clicking the Pay Now button.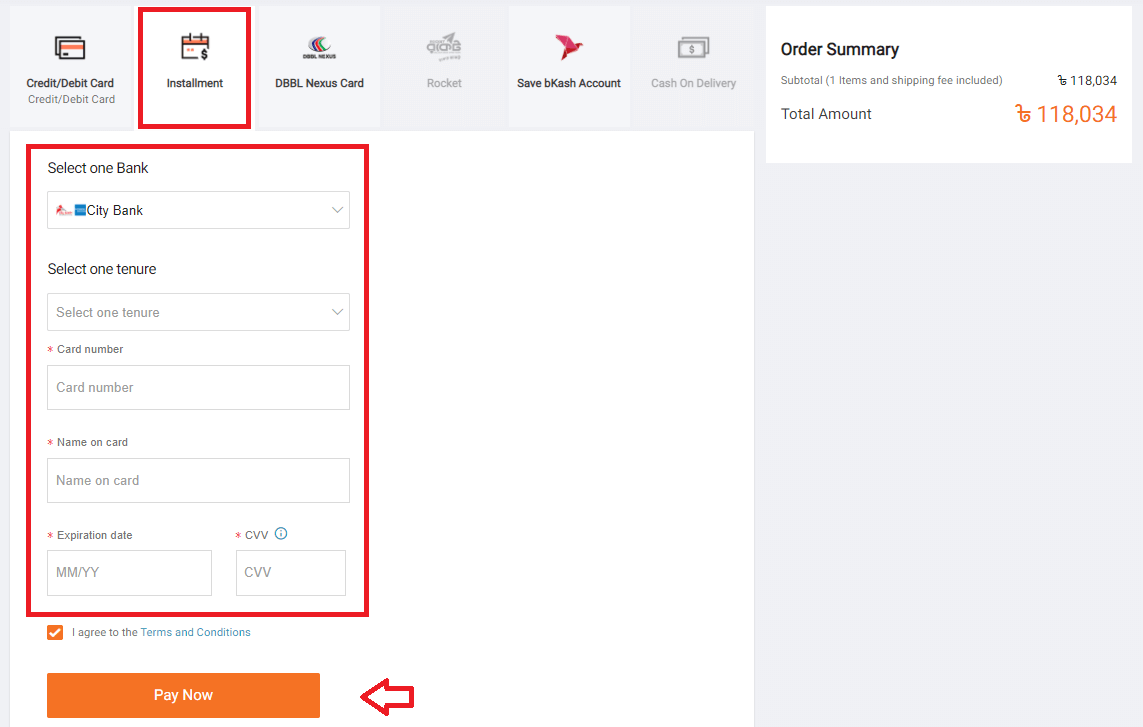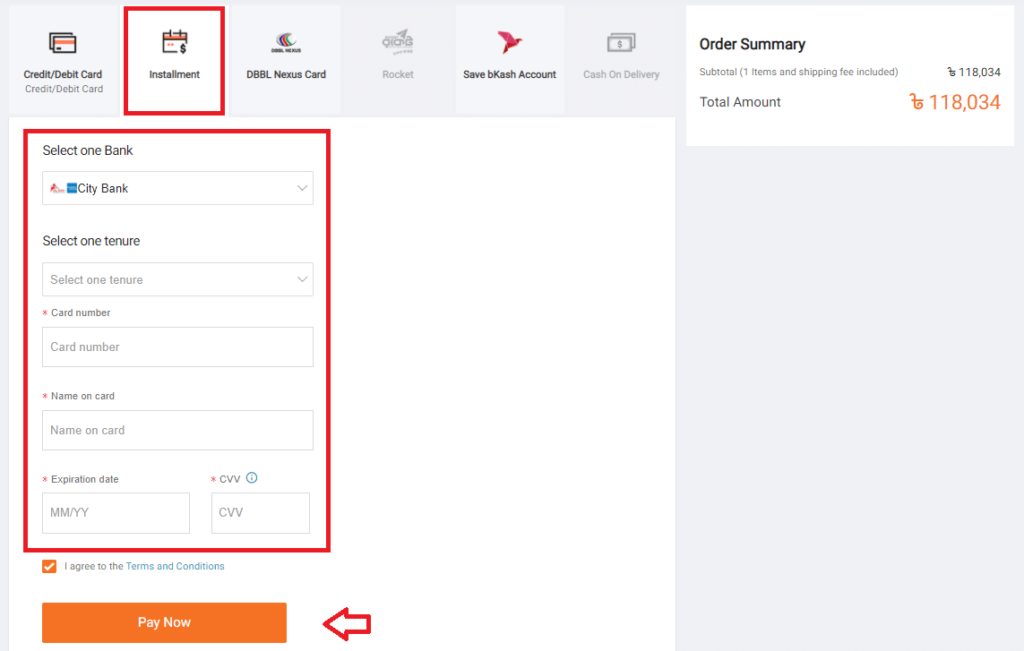 2. Walton Plaza and Outlet
You can buy Walton Mobile in easy instalments from Walton Plaza and outlets. Cash installment facility is available only at all Walton Plaza and EMI facility is available through credit card from any Walton Plaza and Walton brand outlet.
Conditions to Buy Walton Mobile in instalments
There are certain conditions for buying a mobile phone from Walton in installments such as;
Purchase Mobile worth BDT 10,000 or more
In case of receiving cash installments, you have to pay 40% down payment on the installment price and pay the remaining amount in monthly installments.
Photocopy of National ID Card and 2 Photographs.
Photocopy of National ID Card and 2 Photographs or your guarantor.
Fill out the prescribed form along with all other papers.
If any illegal activity is observed by the buyer, then the decision of the Plaza Manager will be acceptable.
You can contact Walton Helpline for details about taking Walton Mobile in installments – 1826 or 0961231726.
3. RobiShop
Robishop may be another option to buy mobile in installments. In case of purchasing mobile phone in installments from RobiShop, they offer 3 to 36 months installment facility depending on the price and card of different banks.
You can order a smartphone at ROBISHOP, you have debit or credit cards of the following banks.
EMI Details of Different Banks
| | |
| --- | --- |
| Bank | No of EMI |
| BRAC | 36 |
| EBL | 24 |
| SCB | 24 |
| Dhaka Bank | 12 |
| UCB | 24 |
| Trust Bank Limited | 36 |
| DBBL | 24 |
| Mutual Trust Bank | 36 |
| Bank Asia | 24 |
| LankaBangla | 36 |
| SBAC Bank | 24 |
Robishop EMI Details
How to Buy Mobile in Installments without Credit Card or Debit Card
To buy a smartphone in installments without a credit card, you have to buy a smartphone in cash installments from the seller's own outlet. For this you must fill out their special form. Copy of passport and passport size photo of buyer and guarantor will be required. The buyer will need an office address and a business card.